---
Attention: Business Owners:


                    

Free Report Reveals…




How a

B.O.S.S.

Can Have It ALL…


(Family! Career! Fun! Health! Sleep!)


….Despite What Oprah Says!
Dear Friend,
If you're tired of being stretched too thin because you are taking care of everyone else – on top of taking care of your business – and never have any time left over for you or those you love, then I have some great news…..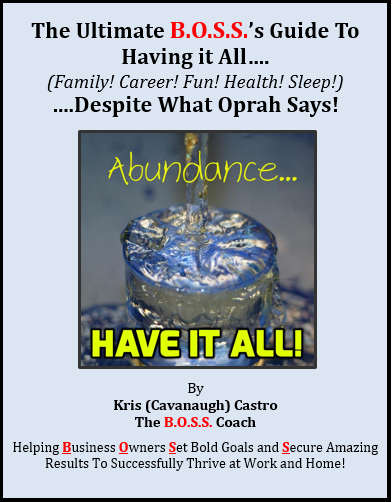 My FREE Report, "The Ultimate B.O.S.S.'s Guide To Having it All…. (Family! Career! Fun! Health! Sleep!) ….Despite What Oprah Says!" – reveals exactly how you can "Have it ALL" without compromising your values and your most important relationships. Guaranteed!

Here's what's disclosed in this extraordinary Report:
— "Having it All" is not a Myth….you can make it happen sooner than you think.
— Your "All" can be achieved regardless of your bank account balance!
— Included are 3 easy exercises to take the first step make your "All" a reality!
— And much, much more!
Best of all, I'm going to send everything to you 100% FREE – just click on the link below – and I'll ship it out to you immediately.
Just one of these ideas put into good use could dramatically and positively help you feel like yourself again, renew important relationships, and achieve the level of success you desire!
If you want your life

and

work to function like your favorite 5-Star Resort, instead of a run-down motel….
DO NOT DELAY!

GRAB YOUR FREE REPORT NOW!
---
…and this could be your life:

You wake up excited about your day and finally feel like yourself again because you've created more harmony between your life and career. Your to-do list no longer beats you up because you put things in the right priority and rarely get sidetracked when unexpected things pop up. You smile and laugh more often because you are spending quality time with the people you care about, pursuing your goals, or simply choosing to relax with a good book or a bubble bath.  Your business and team are performing like a gold medal athlete, giving you the freedom to create a strategy to reach your next level of success.  Your spiritual life has also deepened so you experience more peace and contentment knowing you are doing the best you can, living out your purpose, and making a difference in the lives of those around you – trusting G-d with the results.
---
Click here to register to receive your FREE REPORT…
….Because you are worth it!
Have a fabulous rest of your day!
Sincerely,
Kris (Cavanaugh) Castro
The B.O.S.S. Coach
Helping Business Owners Set Bold Goals and Secure Amazing Results to Successfully Thrive at Work and Home!
404-551-3601
Save