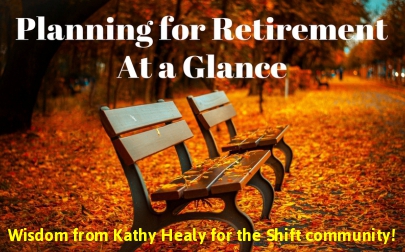 A Guest Post by Kathy Healy, Owner of Healy Wealth Management
How do you define and plan for the perfect retirement?  Is there a certain age when you want to retire?  Do you have an amount of money in mind that feels like "enough?"  Here are some common goals that many people have as they look toward the future:
Your mortgage and all debts are paid.
You live within your means (what I am really saying is that you don't run out of money).
You have money for healthcare needs, whether routine medical or catastrophic care.
You have money for travel or entertainment.
You leave a legacy for your family, or a philanthropy, or both.
The chart below is a map on how to get there.  "Today" is your current situation.  "Tomorrow" is the retirement that you are planning.  "To Do" are steps you can take now to move you toward your future.
| | | |
| --- | --- | --- |
| Today | To Do | Tomorrow |
| What is your income now? Is it stable, growing, or volatile? | Figure out what your retirement income will be from all sources (e.g.  Social Security, Pension, distributions from your retirement assets, proceeds from business, working part-time, etc.). | Make sure you can cover the expenses for the retirement lifestyle you want without running out of retirement savings before you die. You don't want your retirement expenses to exhaust your income from all sources (including withdrawals from your retirement accounts). |
| What are your annual living expenses now? (do not include your mortgage, that will be a separate category) | Track your expenses, so that you will know what your budget is, and you can estimate what you will need in retirement. | When you are projecting your future expenses, don't forget budgeting for travel, increased medical needs, upkeep of your home, etc. |
| Do you have money left over at the end of the month that you can save toward retirement? | Work toward saving 15% of your household income to invest for retirement.  If you are a business owner, start some retirement savings outside of your business for diversification. | Make sure your retirement investments will provide the income you need in retirement. |
| What are your assets (home, second home, investments, cars, boats, collectibles, businesses?  Are your investments diversified?  What is your emotional risk tolerance? What investment objective is right for you? | Consider whether you will be downsizing or simplifying in retirement.  Organize your investments so you know how much money you have, and how your investments are allocated. | How do you picture your retirement?  What will you be doing?  Traveling?  Volunteering?  Exercising?  Reading? Spending time with friends and family? |
| What are your debts (mortgage, auto loans, credit cards, student loans, lines of credit)? | Work toward paying off your loans.  Try paying off the loans with the highest interest rates first.  Pay off your mortgage last. | Ideally, debts have been paid prior to retirement. |
| What are you at risk of losing? Income?  Life? Ability to work? | Check on your life insurance, disability insurance and long-term care insurance to be sure | When you are retired, you will not need disability insurance anymore, and your life |
For prospective clients, I offer a free retirement readiness review.  From this review, you will gain a better understanding of key questions like:
Do your investments match up with your risk tolerance?
How are your investments allocated (stocks, bonds, mutual funds, index funds, etc.), and are your investments appropriately diversified? Sometimes people have their accounts spread out into different institutions, and don't have a good overall understanding of what they have.
What are you being charged?  Often there are layers of fees built into investment products, and it is not clear what you are paying for financial services.
Are you on track for meeting your goals?  We look at the big picture, and focus on 4 key areas:

Cash flow (budgeting)
Investments
Risk Management
Estate Planning (for a small business, this will include succession planning too).
Our retirement readiness review is like a check-up from your doctor, or a one-on-one session coaching session in sports.  I'm a highly trained and experienced professional who sees all kinds of situations.  Some good, some bad.  If you want to make sure you're looking good, or can follow a path to work towards getting there, give me a call at 770-353-6444.
Content in this material is for general information only and not intended to provide specific advice or recommendations for any individual.Securities offered through LPL Financial. Member FINRA/SIPC. Investment advice offered through IFG Advisory, a registered investment advisor and separate entity from LPL Financial.
About Kathy:
Kathy Healy has an MBA from the University of Alabama at Birmingham, and 20 years of experience in banking, insurance, and financial management.  She also holds the CERTIFIED FINANCIAL PLANNER™ designation, and completed the coursework through the Terry College of Business, University of Georgia.  To learn more about Kathy or contact her for more information about her services, go to www.HealyWealthManagement.com.
Save
Save
Save
Save
Save
Save