********************************************************************************************
Imagine reducing the amount of overwhelm you feel and gaining more control of EVERY area of your life!
In just five meetings previous participants in this program completed a journey which allowed them to begin to take back control of their lives; create more effective time and stress management skills; and develop a foundation to create a personal and professional legacy.
If that type of journey interests you, this MP3 series is definitely for you!   
Most people discover that with my assistance:
Their to-do list no longer beats them up because they put things in the right priority and rarely get sidetracked when unexpected things pop up.

They have more harmony between their work and personal responsibilities and feel in control of their lives.

They smile and laugh more often because they are spending quality time with friends, pursuing my goals, or simply choosing to relax in whatever way that makes them happy.

They wake up excited about their life and work, and finally feel like themselves again.

They are relaxed rather than stressed all the time.

They see solutions where they only used to see problems.

They lead more effectively so their staff and business perform better.
*********************************************************************************************
"After the sale of my company I needed to stop and strategize the next steps to take both professionally and personally in my life. I contacted Kris with Shift and she immediately went to work. Her program provided insight into the challenges that obstructed my success. While using the Stuck to C.E.O. Journal I was able to prioritize responsibilities, release resentments, create a goal board and find a new career home.
The Shift System works so well, you cannot help but get "Un-Stuck ."
– Cindy Jones, author of Alive Pain Free.
*********************************************************************************************
Included with this purchase is a complimentary 30-minute private client strategy meeting (valued at $125.00) to discuss how to improve any area of your life (valid only if completed within 60 days of program purchase).
" Taking Back Control of Your Life" Program Overview
(MP3 #1)

Reducing Overwhelm & Taking Back Control of Your Life

(MP3 #2)

Finishing Out The Year Strong

(MP3 #3)

Stress Management

(MP3 #4)

Time Management

(MP3 #5)

Creating Your Legacy for Next Year & Beyond
Includes Stuck to C.E.O. book and PDF journal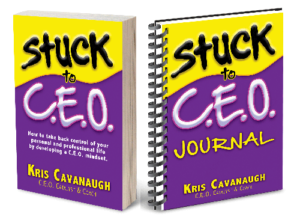 Included in this product are:
1) Five 1-hour training MP3s 
2) A complimentary 30-minute private-client coaching meeting with Kris (Cavanaugh) Castro
3) All the worksheets and program documents
4) Stuck to C.E.O. book and PDF journal

This is a unique opportunity for you to invest in a proven and powerful self-study program to help you thrive in every area of your life.  Don't forget, it includes a complimentary 30-minute Strategy Meeting to support you in creating an action plan to fast-track your goals!
There's no better time than right now to invest in YOU!
Click on the "Buy Now" button below to purchase this RESULTS-DRIVEN program for only $149.00 + Shipping:

**For International Orders, please call Kris at 770.715.5633 for shipping information**
If you have any problems with your purchase, contact us at 770.715.5633