Is Inner Peace in the midst of Chaos even Possible???
Thanks to Saurel Quettan and Giovanni Gonzalez for inviting me back as a speaker on The Daily Huddle.  Today's topic is around the question, "Is Inner Peace in the Midst of Chaos Even Possible?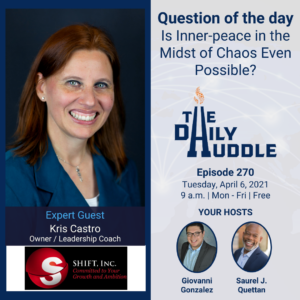 You can join their daily conversation at 9am EST with other business leaders from across the U.S (See links below the video for more information).
The interview recording is below.  ENJOY!!  :)  ~Kris