Kris Castro and Rick Meekins on Faith Marketplace Radio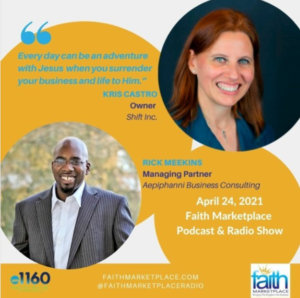 Rick Meekins and I had a great discussion with Bob Lambert on his Faith Marketplace radio program.
Click below to listen to the entire interview.

ENJOY! :) ~Kris
Podcast Description:
Leadership is not only about leading. It's paving the right and strategic path for your whole team. To find out more, listen to this podcast!
Our guests on this podcast are Kris Castro, Owner of Shift, Inc. along with Rick Meekins, Managing Partner of Aepiphanni Business Consulting talking with Host Bob Lambert
Topics Discussed…
Learning to hear the Lord's voice more clearly gives you an edge in business and life.
Surrendering everything to Jesus allows Him to use every part of your day for His glory if you are open to partnering with Him.
Collaborating with like-minded people to serve others allows for greater impact for the Lord's glory.
Forward-thinking solutions for business leaders to help them plan for and navigate through the challenges of business growth.
 Leading businesses is a journey through which you grow and help others to grow.
Focusing on the vision makes the bumps in the road more tolerable.
Apple Podcast – apple.co/2TbuUrG
Google Play – bit.ly/FMRpodcast
About Bob Lambert and his radio show:
From the start, Faith Marketplace was God's calling.
Mission: Inspire | Equip | Encourage Christians in the Marketplace.
Vision: Through our talk radio program, internet and social media platform God's calling is to bring salt and light to those in the marketplace all over the world. We hope our mission and vision is pleasing to God and fulfills scripture of the great commission by helping marketplace leaders demonstrate their faith by their walk and ministry at work.
Inspire – by hearing Christian business leaders share their faith story, how coming to know Jesus has shaped their leadership.
Equip – by learning how they're living out their faith in the marketplace by leading where they are at, how they treat employees, customers, vendors and colleagues by walking their faith.
Encourage – by asking leaders to share tips, suggestions and guidance on how others can lead by their walk.